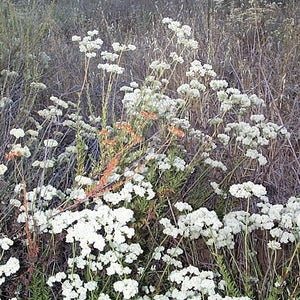 About California Buckwheat
Plant Family:

 

Polygonaceae
Plant Type:

 

Shrub
Height by Width:

 

3-4' H x 4-5' W
Growth Habit:

 

Dense, mounding
Deciduous/Evergreen:

 

Evergreen
Growth Rate:

 

Fast
Sun Exposure:

 

Full sun
Soil Preference:

 

Adaptable
Water Requirements:

 

Drought-tolerant
Cold Hardy to:

 

15 degrees F
Flower Season:

 

Summer
Flower Color:

 

Cream/light pink fading to rust brown
Endangered?:

 

Not listed
Distribution:

 Widespread in c

entral and southern California Floristic Province, also found in the eastern Sierra Nevada and deserts
Natural Habitat: Dry slopes, often south facing as a common component of coastal sage scrub. Inland, it may be found in valley grassland. In high desert areas, it occurs in sagebrush scrub and pinyon-juniper woodland. It sometimes occurs in low desert areas as part of creosote bush scrub.
All sales are currently for local pickup at the Garden only.